Here is a guide to the best food trucks in New York City from our friends at
HostelBookers
!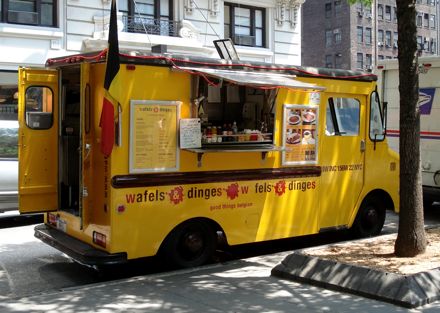 Street food in New York is a foodie revelation. Of course, hot dog vendors are still ten a penny, but there's now a whole new scene of exciting artisan foodstuffs to try on the streets of NYC. Book into one of the cheap New York hotels so you've got money left over to spend on these food trucks…
Wafels & Dinges
At Wafels & Dinges the are five sweet waffles to try, including the de verdekke – a waffle and ice cream sandwich between two chewy wafers. Add whatever 'dinges' you like as extra - bananas, strawberries and Nutella score highly. Savoury waffles come in the form of BBQ pulled pork with coleslaw, sweet barbecue sauce and a coolickle, or bacon + syrup.
Find trucks at the gate of Central Park Zoo, the Great Lawn near the 85th St entrance and Columbus Circle in front of the Time Warner building.
Frites'N'Meats
Frites'N'Meats produce mouth-watering medium-rare burgers, served with killer fries. There are four burgers to choose from including 'grass fed angus' and the 'wagyu american kobe', and five cheeses as well as 11 toppings. There are six aioli sauces for your frites, including sundried tomato and wasabi mayo.
The Treats Truck
The Treats Truck – known as 'Sugar' – is filled with freshly baked cookies, brownies, crispy squares, no-melt 'ice cream' cakes and caramel crème sandwiches and dessert nachos. You can find its next location by following them on Twitter @thetreatstruck.
Schnitzel & Things
The only mobile food truck serving authentic schnitzel is Schnitzel & Things. Hand pounded, breaded thin cutlets of meat – either chicken, veal or pork – are fried and served alongside Austrian potato salad, cucumber salad and lemon wedges. You can also try bratwurst sausage served with sauerkraut. Dessert includes Tahitian vanilla panacotta.
Souvlaki GR
Souvlaki GRserves authentic Greek street food. Try the souvlakia, made up of charcoal-grilled meat wrapped in a warm pitta and served with tzatziki sauce, tomato and onion. You can also get French fries done the Greek way, topped with Feta cheese.